FAQ

/

How to export cash sales, account payable(purchase) or credit note (cash sales) from ARMS® LITE?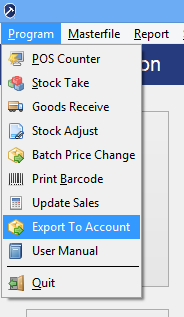 Step 1: Click on the Program menu and Select Export to Account from Program Menu.
Step 2: Fill in Date from and To.
Step 3: Select Format (Accounting Software) and select export Cash Sales group by Daily Summary, Monthly Summary,Receipt or Account Payable (Purchase) or Cash Sales Credit Note.
Step 4: Once confirm click on Export button.
Step 5: Select folder which you would like to store Cash Sales/Account Payable/Credit Note file.
Step 6: Once confirm click on OK and system will show you file name which export.

Tips:
For Vendor code must follow Accounting Software Vendor/Supplier MasterFile.
For change other account code/name, click on Settings button in export to account module. All account code and account name must follow accounting software masterfile.
Accounting software list supported
6.

TJH Accounting (Only cash sales & credit notes available)